LED lights for dairy barns
AGRILED pro 32 control with touch-screen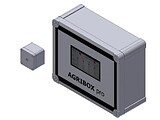 Control with easy to operate touch-screen for up to 30 lamps.
Lamps can be put into groups and can be controlled on one of 10 available timing programs.
The lamps are controlled by a bus-system so even complicated light-programs can be realized without any additional wiring.
More milk, better fertility and less energy costs !
Lengthening the day by using artificial light lowers the amount of the sleeping hormone Melatonin.
This leads to healthier and more active cows. A correctly dimensioned light-system in the barn lengthens the day to simulate a summer day, the time dairy cows by nature are more active.
This leads to more feed consumed and to more milk produced.
A light program that provides at least 150 to 200 Lux for 16 hours, followed by 8 hours of darkness showed the following results in scientific studies:
Up to 15% increased milk yield
Better feed intake
Less dominant cows
Raised fertility 
AGRILED pro 32 LED-light for dairy barns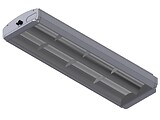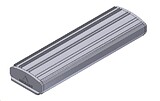 Specially designed LED-lamp for dairy barns with almost twice the light output as comparable lamps and up to 6% less energy consumption.
The lamp is resistant against corrosion, ammonia and dust and also has an integrated red night-light which is not seen by the cows.
The lamp can be controlled by usual switches and clocks or by an integrated bus-system.
With the bus-system every lamp can be switched on and off on it`s own and the brightness can be adjusted without steps.
So special functions like "all lights off except the lamp over the calfing barn" can be realized without any additional wiring.
To reach the necessary 150 to 200 Lux in your dairy barn, we would like to provide you with an calculated plan.
Technical data:
32.500 lumens (ap. 130 lumens / Watt)
Energy consumption at full brightness 250 Watt
Integrated red night-light
Life of 60.000 hours (ap. 30 years)
5 year guarantee
More information as download:
Schematisch Schematical Drawing (in german)